Beautifully romantic but potentially disastrous, an autumn wedding may be the perfect choice for some couples. All those soft colors and gorgeous textures evoke a sense of cozy warmth on the big day – until it turns wet. Whether planning for rain or just hoping for clear skies, here are 7 tips to help you pull off a successful rainy autumn wedding no matter what Mother Nature throws your way!
Have a Backup Plan – Consider an indoor venue or tenting options
If you have chosen an area for an open-air ceremony, then even when booking a place, discuss with the banquet manager which interior of the institution it will be possible to transfer the action in case of bad weather. Alternatively, consider getting a tent if the weather forecasts are not very promising.
Choose Appropriate Clothes – Don't forget to bring umbrellas
It is important to know what you will wear in wet weather conditions. As far as your wedding dress is concerned, ensure it has some rain-resistance features, such as a long train or a veil in tulle. Don't forget to bring along umbrellas for the bride and groom, as well as for guests. Also, make sure you have some stylish rain boots at hand!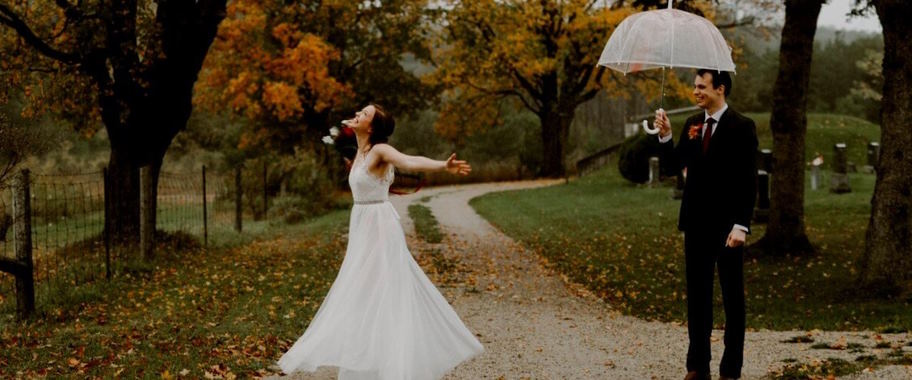 Invest in Quality Rain Gear – Don't let the rain ruin your photos!
The rain can be a real problem when you take wedding photos. To ensure your pictures look beautiful despite wet weather, you must invest in quality rain gear for your photographer and videographer. Invest in clear umbrellas or plastic sheeting so that these professionals can do their job without getting soaked!
Use Colorful Decorations– Brighten up those rainy days with festive touches!
Rainy days don't have to be dull. Add colorful decorations to brighten the atmosphere and make your guests feel more cheerful. Decorate the area with some colorful umbrellas or raincoats, as well as brightly colored streamers or balloons. Place lanterns around outdoor areas to anchor the look while providing a warm and inviting light.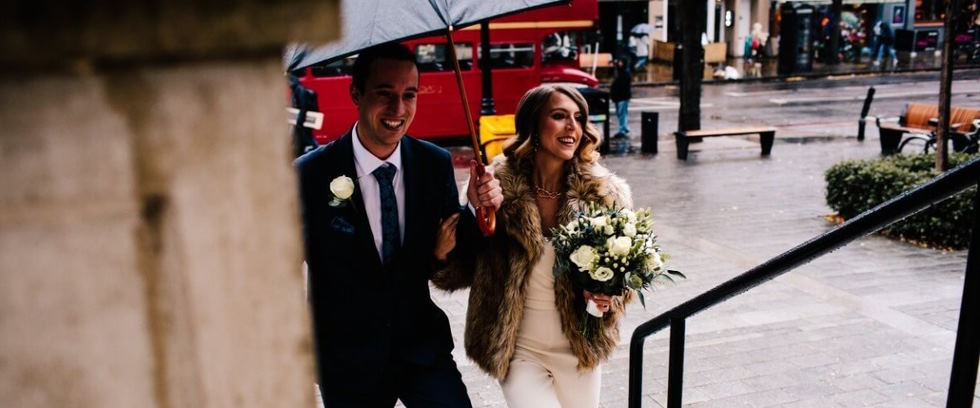 Tent the Reception Area – Keep your guests dry and comfortable
Will the tent save the situation? It makes sense to build a tent or awning if it is within the framework of the wedding concept. And it's worth planning to put it up at the very beginning of preparing for the wedding, given that this is a considerable expense: renting a tent, rich decor, additional light if necessary, flooring, and drapery.
Opt for an Indoor Ceremony – Move your special moments indoors
If all else fails, the safest option you have is to move the ceremony indoors. Plenty of places offer indoor locations with beautiful decor and an intimate atmosphere. All you have to do is choose the one that best suits your needs and start planning the setup.
Be Prepared – Have towels and extra clothes handy
Last but not least, make sure that you are prepared for any eventuality. Have a few extra towels ready so your guests can dry off if needed. It is also worth having spare outfits on hand in case of an unexpected downpour or puddle-jumping.