Look no further if you're dreaming of an outdoor wedding ceremony with the perfect mix of beauty and romance! However, there are certain steps you can take to ensure that your outdoor ceremony is nothing short of extraordinary.
Choose your registrar
The registrar is the person who hosts the ceremony and declares the bride and groom husband and wife. You should get to know him before the ceremony. Ask him about other ceremonies he has led, find out his approach to the ceremony, and watch a video of him in action. You can also ask if you can visit one of his weddings in a public place to see how he does it.
Read the scenario
Trusting the experience of the registrar and his taste is an unaffordable luxury for future newlyweds. Instead, ask for the scenario and read it carefully. If you want to change the text, music, or sequence of actions, suggest this to your presenter. A good registrar should be able to adjust his script and make it suitable for your choice of music and ceremony.
Order the services of a sound engineer and seat him correctly
The sound engineer and the equipment he uses will influence the ceremony's quality. He should have enough time to choose the right area, set up the equipment, prepare the music, and do a sound check with the recorder before the ceremony. To ensure the sound is perfect, hire a professional sound engineer and instruct him to stay close to your celebrant.
Choose the right location
Choosing the right outdoor wedding venue is key to a successful wedding ceremony. Make sure the area you choose is big enough for all your guests, has plenty of shade, and offers great views. If possible, try to find a setting with natural beauty, like a beach or park.
Decide on decorations
When decorating your ceremony site, you want to make sure it reflects the style and theme of your wedding day. For example, depending on the layout of the space, you can use strings of fairy lights, flower arches, or potted plants to add a romantic touch. But be careful not to overcrowd the area, as this can distract from the ceremony itself.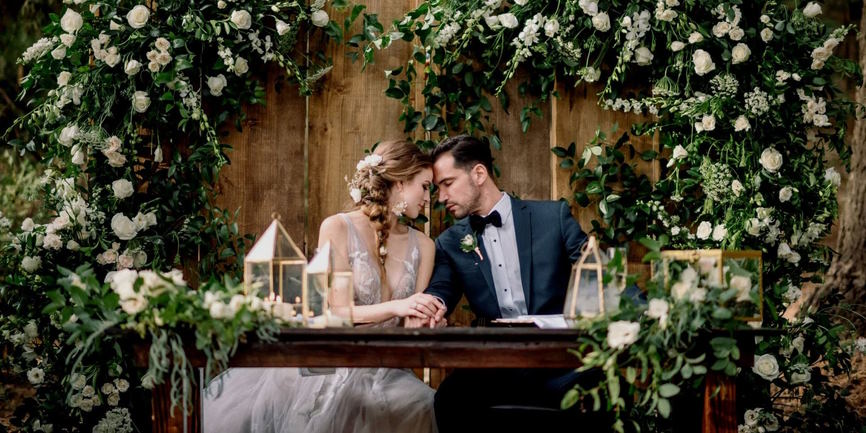 Create an unforgettable atmosphere
The most important thing about your outdoor wedding ceremony is that it becomes a magical moment in time, one that you and your guests will never forget. So take time with your future spouse to plan every detail and create a special sentiment that reflects your love.
Make sure you have the necessary supplies
Finally, make sure to have all of the necessary supplies on hand for your outdoor wedding ceremony. Water bottles, umbrellas, sunscreen, insect repellent, and extra chairs should be among your must-haves so your guests can be comfortable and enjoy the festivities. Also, have a plan for inclement weather, such as an indoor backup venue in case of rain, just to be on the safe side.
By following these few simple steps, you are sure to create the perfect outdoor wedding ceremony that is both beautiful and memorable!