When it comes to wedding decor, flowers are often the first thing that comes to mind. But what if you wanted to put a unique spin on your special day by avoiding flowers altogether? From paper crafts and candles to wreaths and ribbons, there are many amazing ideas for decorating weddings without floral arrangements! Read on for our top tips on creating an eye-catching display at your nuptials without relying solely on bundles of blooms.
Season details
Greenery is an alternative to flowers in spring and summer weddings. It is rich in shades and textures, hardy, and often cheaper than flower arrangements. Wild grapes, ivy, eucalyptus, and fern will be wonderful decorations for the festive table and arches, and even 100% replace all the flowers in the bride's bouquet. Flowers in pots can complement the greenery in the decor of the hall or lounge area. If the wedding takes place outdoors, wood and moss can become accents in the decor. In autumn, instead of greenery, you can use yellowed leaves of various tones and fragrant needles and cones in winter.
Paper decor
Paper is a type of material that can be used for different purposes. Some popular paper types include tissue, corrugated, cardboard, and craft. For example, decorators often use paper to make growth flowers and paper buds that can be used to decorate the ceremony, photo zone, or banquet hall. Pompoms made of paper often decorate the backdrop at young people's tables or build air suspension structures.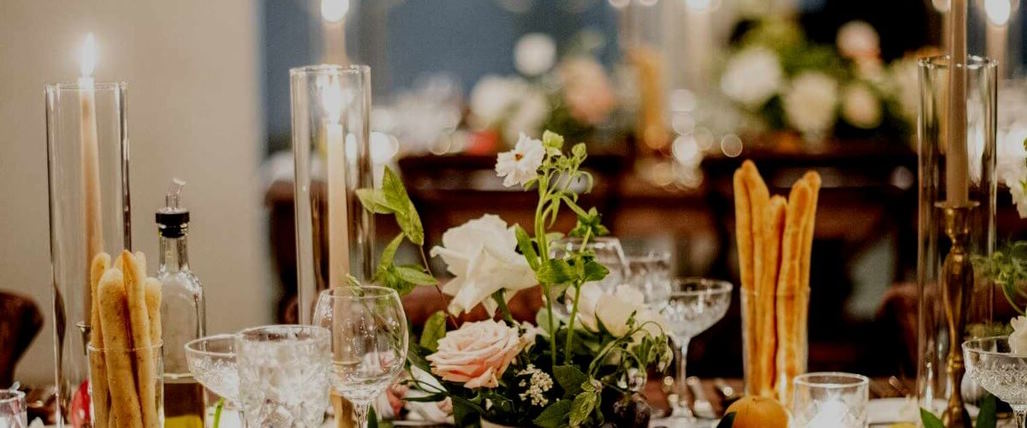 Garlands
Various garlands are also a great way to decorate your wedding. They can be made of paper, fabric, candles, and other materials. For example, you could make a canopy over the table of young people with colorful papers or bright-colored ribbons. Or you could use various shapes of candles to create magnificent lighting effects!
Candles and candlesticks
You can use different materials like fabric, candles, and metal candlesticks to create a warm and inviting atmosphere for your wedding. For example, candles with shimmering wicks look pretty as decorations on tables and in the ceremony area. But be careful when you are choosing these items. Candlesticks can be very different from each other in terms of shape, size, and texture.
Vintage furniture
The highlight of a classic wedding can be vintage furniture – English armchairs, sofas, chairs with patterns, tables with curved legs, chests of drawers, and sideboards. They can furnish an outdoor ceremony, a lounge area, and a banquet. Vintage furniture will create a special atmosphere of romance that is hard to resist.
These are just some of the many decoration ideas you can use for your wedding without relying on flowers. Although flowers will always be a popular choice for weddings, there are so many other creative options available that you can use to make your day truly special and unique. With creativity, you can create the perfect wedding atmosphere without resorting to floral arrangements. The possibilities are endless!